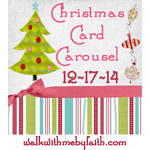 I have always wanted to participate in a link up for Christmas cards but this is the first year I have gotten our cards done in time! Woo hoo!! I'm linking up with Faith and then Lyndsey.
I love our card this year. For the last 8 years John has designed our cards but this year, with his new job, I didn't want to ask him to spend his free time designing our card. So I went with Shutterfly and was very pleased with how our cards turned out!
We had family pictures taken in November and it was about 31 degrees outside when we took them. Which is why the kids aren't smiling in any of the pictures and Emma is crying when I'm not touching her. :) And since I took a screen shot and then cropped it for the sake of this post...here are the original pictures so you can actually see them clearly.
Merry Christmas from our family to yours!
xo